Romilly Hayton represented Great Britain at International competitions, in Equestrian Vaulting, twice during the summer holidays.
Equestrian Vaulting can be best described as Gymnastics on a cantering horse.Romilly vaults with the English Vaulting Squad (based and train in Warwickshire) and was selected to represent Great Britain along with 5 other members of the Squad. Together they form the 'Senior Squad'. They compete at the highest level there is in Europe. Ironically, Romilly is not yet old enough to compete as an 'Individual' in Europe – you have to be 12 to compete in Child classes and 14 to compete at Junior level!
The first was in July in Aachen, Germany. This is an incredibly prestigious competition and is likened to competing at Wimbledon (Tennis) or Wembley (Football). A flavour of the event is shown below.
Great Britain came 1st in the Squad Freestyle competition. Each member of the squad received Rosettes, a plaque and a Solid Silver Coin – 5 oz of Silver. Romilly was very pleased with that!
The next competition was the European vaulting Championships in Austria in August. It was incredibly hot – 40 degrees for all 7 days and the horses and the GB squad all suffered a little due to the heat. We came 10th. That wasn't bad – but not quite where they wanted to be!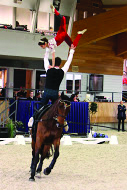 The next competition is the English Championships on 9th – 10th September and we wish Romilly and the squad good luck!
Categories:
Achievement
Resilience