Our sixth formers have gone viral!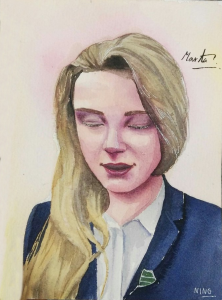 A well known Thai blogger visited our school earlier this year, as part of a series she is filming on British schools.
The blogger known as 'Sacross Peachii' and her friend 'Nest' were shown round by Elena Roberts and Marcheluk, both in Year 12. From the release of the video last Week, Marta and Elena were inundated with Twitter/Instagram follower requests from Thailand and the vlog has over 100,000 hits already. One fan has even posted lifelike paintings of the two of them!
Peachii described the school as 'so pretty' and 'really classy' and our doorway as 'epic' before taking a look round. The bloggers visited a drama class, a junior choir rehearsal, cookery and the new science centre, where Peachii was invited to join in some flame testing and remarked 'it's so practical, the girls don't get bored." They also watched some trampolining and Art.
They were concerned at how easily international girls integrate. Marta answered: "Easily. People help you. They are really, really nice." They also asked about the school's remote location – but pupils told them it helps save money!
The bloggers were amazed that teachers knew all the pupils' names: "It's like a family feeling," Peachii said. She goggled at our 'reading tree', where girls climb up with books at break time. "We could never do that in Thailand," she said. "We'd get burned, literally."
She added: "The education at this school in particular is really enriching. The girls are encouraged to get their hands on in science labs and to see them really enjoying it is empowering. Part of my job is trying to spot flaws, but I'm having real trouble here!"
They were particularly impressed with Adcote's teaching ethos with girls given lots of choices, in order to bring out the best in them: "I think it's the right way to teach – you don't change the style of the person, but just guide them," Nest said. "You enjoy it, you excel at it, you develop it, so it's not boring," Peachii added.
And Peachii just loved Adcote's gardens: "This is a fantasy corner, like a hidden, magical garden," she said. "I love this school!"
You can follow the story at:
Categories:
Engagement