From initial practice attempts to the final 100kms plus canoe-camping expedition on the River Wye in Herefordshire, Elena Roberts (Y12) tells the full story.
Be bold, start cold. That is certainly how it started when seven eager Year 12s prepared for a day canoeing on the lake. Paddles, life jackets, helmets and sun cream at the ready, the Gold Duke of Edinburgh team of 2017 were ready for the adventure to begin. The weather was just right as Lyla, Fiona, Zoey, Charlotte, Novia, Marta, Jamie and I kitted up beside the lake. Many of us had never canoed before, so this really was the start of a great adventure. We spent the day learning the key skills and getting to know our canoes. Even though it was a beautiful sunny day and Marta and I managed to gain an impressive sun burn, this did not stop the water from being absolutely freezing! After canoeing around in circles for about an hour, we finally got the hang of going in a roughly straight line, so we moved on to capsize drills. After foolishly offering my boat first as a demonstration along with a pretty reluctant Marta, we tipped out of our boat in the middle of the lake. Cold as it was however, everybody had a go and we all successfully learnt how to rescue ourselves if the worst came to the worst.
A few weeks later, we moved onto the canal. Along with our gap student Jamie, our group travelled to the canal with Mr Farmer where we met Adam. He guided us down to our campsite, kept us entertained with eye spy down the long stretches of canal and helped us to manoeuvre around the hundreds of pristine narrow boats. As we ate lunch floating down a winding section of water in the absolute pouring rain, the group managed to maintain good moral. Relief and joy was felt by all as we reached the campsite. Fed, watered and showered, the group basked in the last remaining rays of sunshine before going to sleep in our tents. For most of us, the night was long. Marta and I woke up at 2 o'clock in the morning because it was so cold we could not sleep. In the morning, heads peeped out from the tent door to test the temperature. A quick jog to the water tap and back and we were warm enough to begin to cook breakfast. Marta and I were proud of our little pots of steaming porridge until we noticed Charlotte, Lyla and Novia who were tucking into big bowls of noodles and hot chocolate. However, we were all full enough to get to the finish line in one piece.
Soon enough, it was our last practice. This time, the six of us took to the River Severn for camping for two night and three days. The first day was hot. Our group plus Jamie met Adam again who took us upstream which was tricky, especially negotiating the faster flowing water. However, we all managed to get to our destination without getting too out of breath. We first spent a few hours with Adam learning new skills such as travelling directly across the river in a straight line without being dragged downstream. Unfortunately, nobody was able to escape the dreaded capsize drill. Adam and Jamie purposely capsized their canoe, with the aim that we would be able to rescue them. Easier said than done. After many attempts to drag Jamie into our boat without capsizing ourselves, I resorted to screaming at Jamie to 'just get in!' as she was teetering on the edge of our rather tippy canoe. This resulted in fits of laughter which caused our muscles to weaken and drop Jamie back into the water again with a splash. Finally, with a bit of teamwork, Adam and Jamie were successfully back into their boat, even if they were a bit cold and wet. They soon dried out though as the sun beamed down on us as it approached mid-afternoon. Again, much to the annoyance of Marta, I volunteered our canoe for a group rescue task. This involved capsizing our canoe along with our barrels which contained all of our food, tent and sleeping bag. Unfortunately, I felt that the aim of this task- "group" rescue- was not fully understood as Lyla began to shout at us to swim to her canoe which was a fair distance away instead of her paddling over to us in the water to save us. On the other hand, the group did a fantastic job of rescuing us and our belongings as we were soon back in our own canoe. Even if our canoe was full to the brim with water, Adam reassured us that it was possible to paddle mostly submerged under water. However, after a few minutes of attempting to do so and looking ridiculous paddling in what was our version of Titanic, we eventually capsized yet again and had to be rescued a second time. We stopped for a break at a beach on the way back to our campsite. I was nearly dry by this point, so when Adam through mine and Marta's barrels into the water as a practical joke, I had to run into the river again to retrieve it as quickly as possible which clearly showed how much I valued my lovely dry sleeping bag that was bobbing down the river at an alarming rate.
The most difficult part of the day was actually getting out of our canoes at the bank of our campsite. A steep, slippery, muddy bank separated us and our camp. Using paddles as stepping stones and holding onto the few sprigs of grass sprouting out of the bank, everybody apart from Novia was up the bank. However, Marta had left her barrel in the canoe, hoping that Novia could bring it with her up the bank. Regrettably, upon attempting to climb the bank, Marta's barrel fell out of the canoe into the river yet again. Novia was well equipped to brave the mud as she was wearing wellies. She stepped out to grab Martas barrel, only to get stuck knee deep in mud. The mud was so thick that it created a suction force around her ankle and when she tried to get free, her boot was left behind in the mud. As she pulled to get free, the rest of the group had to be careful not to fall back down the bank as we were in stitches.
Drama over, everybody managed to cook a meal and went to bed. The next day was long and we faced a group of angry swans, but we eventually arrived at Montford Bridge. A hot shower had never felt better at this point. Afterwards, we all retreated to the comfort of our insect repellent smelling tents to avoid the clouds of midges that had moved in. We arrived at the finish line the next day which was Frankwell carpark in Shrewsbury, tired but proud of our achievement.
That brings us to our final expedition. The remaining five of us made our tradition sweep around Tescos with Mr Farmer to get our expedition food before heading back to school to pack. On the evening of Friday 23rd of June, the group headed off in the minibus up to Hereford before camping next to the River Wye. A quick visit to the pub for a hot chocolate and a back of crisps to boost moral set us up for the next day where we would make the monstrous journey of over one hundred kilometres.
Off we went. The first day of our final expedition. It was exciting to see what lay ahead of us. Route cards and maps in hand, we paddled down the very shallow River Wye. The fact that is was shallow made our first day especially challenging as we often got stuck on rocks that lay waiting for us camouflaged in the water.
The music event and the first campsite was a bonus. We sat and ate heaps of pasta and noodles listening to music booming across the field to us. The group was feeling enthusiastic for the rest of the trip and grateful for the lovely weather. In the morning, the decent down to the river with our canoes and barrels was getting easier each day as we slowly built up our arm muscles! The next day was brilliant. Everyone was feeling better overall after a good breakfast. The sun shone all day as we canoed 29km to our next campsite. Everybody agreed that hot food and showers as well as being together as a group were really good morale boosters.
The next leg of the journey started at nine o'clock. The day was going to be our longest so far- 32.5 km. However, we managed to make it to the next campsite in good time, around four o'clock. This was great as it gave us plenty of time to have a shower and cook as well as relax. Muscles in our backs and necks were beginning to ache, so everyone was grateful for the flat grass where we could set up our tents. At this point, I personally felt that our group was really coming together and getting to know each other a lot more. We left for the final stretch of the expedition at 6:45 in the morning. Although this was much earlier than we had left before, it was really worth it. The tranquil atmosphere of the river early in the morning was magical. By 11 o'clock, we were already half way. The final part of the river involved rapids. We had to wear helmets and Marta and I decided to secure all of our belongings to our canoe in case we capsized. We also made sure that our phones were wrapped in several plastic bags! The rapids were very exciting, even if I got soaked as a wave crashed into the side of our canoe. It turns out that I absorbed most of the water as Marta was pretty dry as we left the rapids.
The final few kilometres left were stunning. We saw Kingfishers and were accompanied down a large section of the journey by a family of ducks. Zoey said that this was the highlight of her trip, as the ducklings were swimming right next to our boats and nipping our fingers. Soon enough, the Rowing Club steps were in sight. The whole group really worked together well at this point. Chanting to the rhythm of our paddles, we built up a great momentum as we paddled as hard as we could to the finish line. The biggest sense of pride and achievement was felt by all- as well as exhaustion. Despite all this, a small part of all of us felt slightly disappointed. We had finished. No more canoeing. We all agreed that the whole experience was fantastic, and we would miss being out on the water together. Overall, I was so happy I chose to do Duke of Edinburgh. I've learnt a lot about camping and canoeing, but also about how I work as a team. I've learnt a lot about my group too. We've all improved so much from the beginning and become better friends along the way. We wanted to thank Adam and Jamie for helping us in the early stages of our training, and also Mr Farmer for keeping us motivated and enthusiastic, as well as offering us this incredible opportunity.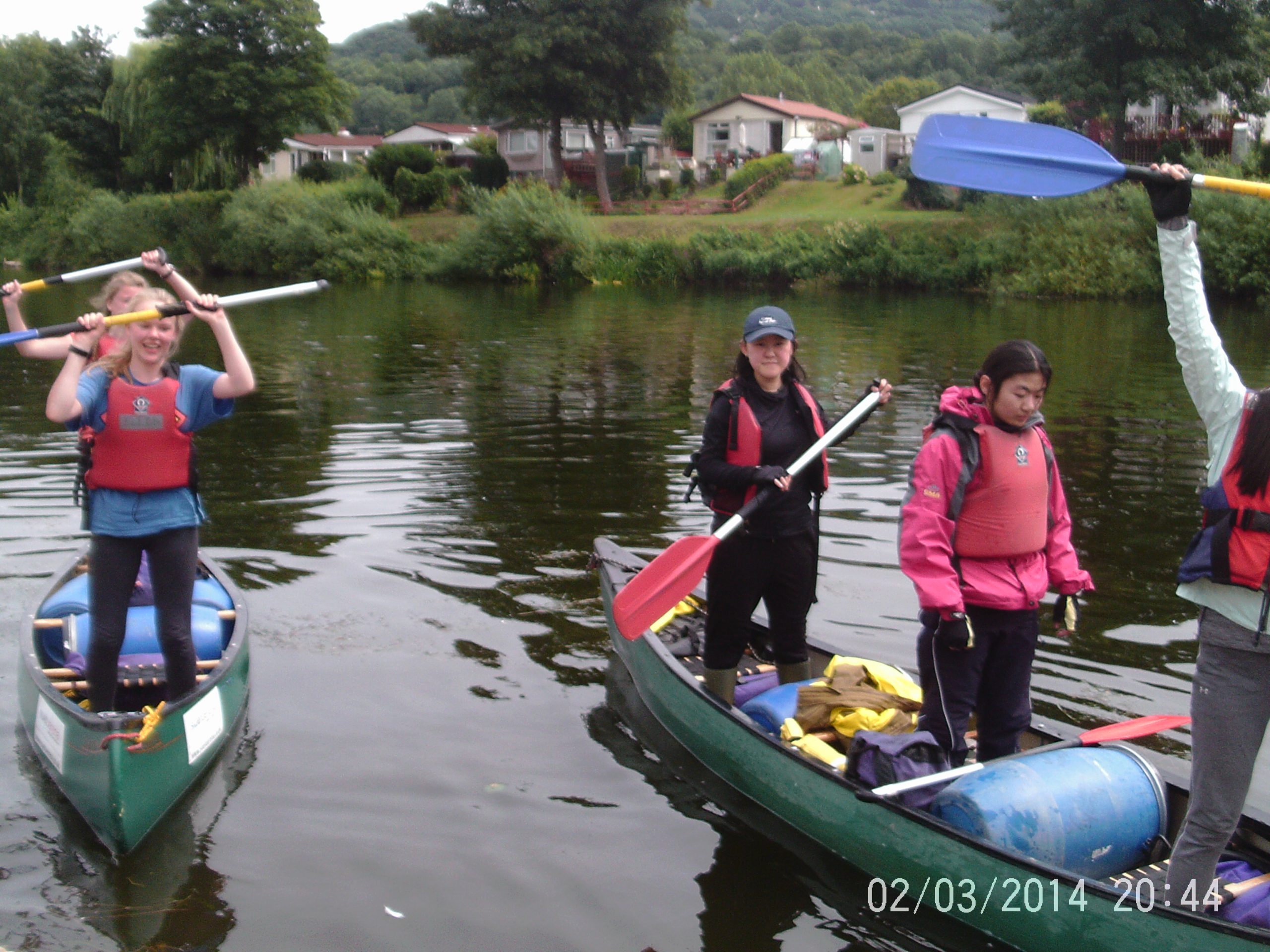 Categories:
Resilience