The coronavirus pandemic has provided an unwelcome interruption to the learning of young students but, as a Google school, Adcote has been able to retain the delivery of a robust curriculum.
Adcote students continue to attend a virtual school day. It is strongly felt that a regular routine provides structure and focus, with familiarity promoting good mental well-being in this unnerving time. Therefore, students follow their usual timetable.
Using Google Meets and Google Classrooms, girls log into their lessons where they can see and interact with their teacher. Importantly for young people, they can also see other students in the class, supporting each other in their collaborative learning. This includes students abroad, who are, perhaps, attending lessons at very unusual times! All lessons are recorded, though, if they don't want to be studying in the middle of the night, or indeed if any student wishes to revisit a topic.
Completed assignments are submitted online, teachers assess work and give constructive feedback, just as usual.
Adcote have additionally managed to maintain the wider life of the school. PSHE lessons are still delivered and they are still having assemblies twice a week when Head's Awards for outstanding achievement in their CLEAR learning programme are announced.
Even more widely, Adcote have continued with their admissions process, even having three new students join them in the remote learning. They have run virtual tours as well as a "Meet the Headmistress" facility for parents wishing for their daughters to join Adcote in September, especially if worried about their daughter's loss of academic ground during this lockdown.
Above all, Adcote have sought to maintain a positive outlook for their young students, using social media effectively to remind of good times had in school to cheer students up and to remind them that they will return again.
Headmistress Diane Browne said: "Adcote has always been known to be a caring school, where everyone pulls together to support each other. The coronavirus crisis has demonstrated this really clearly where everyone has committed to making the best of the situation we all find ourselves in. Staff have worked tirelessly to adapt the curriculum to remote teaching so that pupils continue to make robust progress and our students, and their parents, have adapted really positively to the new way of learning.
That said, I can't deny that we are all looking forward to the time when we shall be all able to be back at school properly, as we do miss seeing the girls in person: seeing them on a screen just isn't the same!"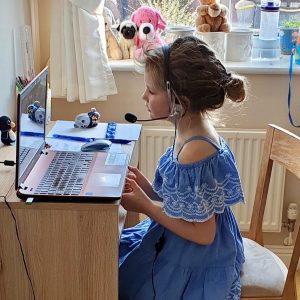 Categories:
Engagement
Head's Blog