Girls learning how to change a car tyre is not a common sight to see in a school, but this is Adcote School where girls are regularly challenged and pushed outside of their comfort zone.
Breaking moulds and pushing boundaries is as intrinsic to the all-round learning experience of pupils at the all-girls' school at Little Ness, near Shrewsbury, as much as the academic classes are.
This is a school that has undergone dynamic changes in the last four years and it's getting noticed nationally. These include major improvements in exam results, an overhaul of its social development programme and a commitment to nurturing healthy, happy, confident and well-educated young women who are equipped and prepared for life, work, independence and leadership.
The lessons in car maintenance form part of Personal, Social, Health and Economic classes. If they had taken place in a co-educational school, the boys would probably be wading in, enthusiastically engaging with the task, while most of the girls would be happy to take a back seat, allowing the boys to get on with it, points out Headmistress Diane Browne.
She is passionate that an all-girls school provides the very best education for girls because it is tailored specifically to how girls learn, develop and mature.
"And it takes away that gender bias that's subconsciously in their own minds, so they are not raised to believe that 'the boys do maths and the girls do English'," she says.
The fact that many students leave Adcote's Sixth Form to study science, engineering, business management, mathematics and economics at university is a testament to Adcote's 'This Girl Can' mantra.
Mrs Browne was specifically looking for an all-girls school when she was seeking a headship four years ago.
"I didn't once consider a mixed school, even though I went to a mixed school myself. I remember doing Home Economics at O-level. I was rubbish at it and would have much preferred to do technical drawing instead, but 'the boys did that'!"
Her first teaching post was at a mixed comprehensive in Accrington. After three years she moved to Stroud High state grammar School in Gloucestershire. It was her first experience of an all-girls school and it was an eye-opener!
"Only when you're in it and living and breathing it on a daily basis do you really see how it makes a difference," she says.
"What I saw were girls comfortable with themselves and making amazing fantastic progress."
After 13 years at Stroud she spent 18 years at the independent school Westonbirt, then an all-girls school, where she became Head of English and Director of Studies.
Mrs Browne took up the headship at Adcote School in September 2016. She was considered "the perfect match" for the job by the school's board of directors. Adcote had recently acquired new investment and a new parent company and the board was looking for a fresh vision and a new direction.
One of the first key changes she put in place was to sign up to CEM, the Centre for Evaluation and Monitoring, which enables the school to measure each child's potential, accurately monitor their progress and use diagnostic assessments to inform teachers where extra support or intervention is necessary.
The proof is in the pudding. For a non-selective school the results are outstanding. In the last academic year more than 50 per cent of GCSE students achieved the top grades of 7, 8 or 9 and more than 70% of all A-level grades were A or A*, with 86% of all results achieving grades A* to B and over 40% attaining straight A*/A grades.
Another key academic change was the introduction of a Chartered Management Institute qualification to Adcote's Sixth Form, which Year 12 students study alongside their A-levels, to help them prepare for higher education and the workplace. Adcote was one of the few schools in the country and the first school in Shropshire to do this.
The introduction of CLEAR Learning, Mrs Browne's vision for developing the essential life skills that students need to thrive (confidence, leadership, engagement, achievement and resilience), runs through the core of academic and non-academic life. Wayfarers, PSHE, Combined Cadets Force, the school's Duke of Edinburgh Award scheme and regular CLEAR Challenge Days all see girls pushed outside of their comfort zones and amazing themselves with what they can achieve.
Adcote's latest innovation was to become a Google For Education School. It continues to evolve to provide the best all-round education for its girls.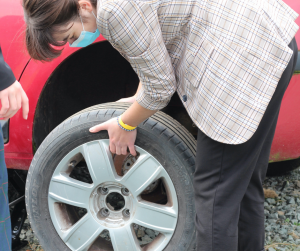 Categories:
Head's Blog
Leadership